The most comfortable and trendy – joggers – desired trousers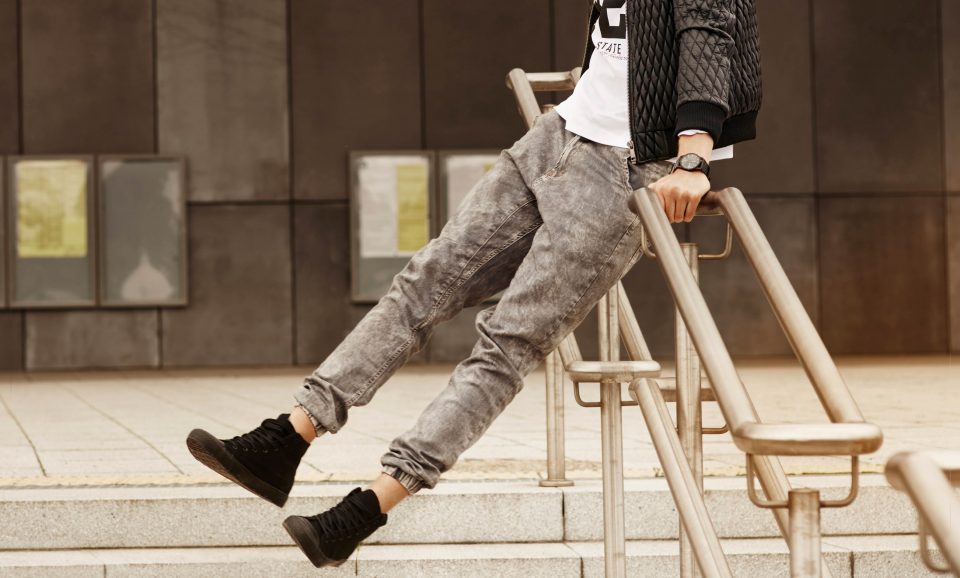 Joggers, a kind of trousers that are believed to be as comfortable as sweatpants, got their place in the fashion world. Why should they be an element of every styling? Because you deserve to feel good. Not only during a training.
Jogger trousers have been a fashion must-have since 2009 and people wear them to expose and show off trendy shoes! Until today, such an idea was inspiring fans of these trousers. Nowadays, joggers are just a point of attention of every fashionista. They are worn by red carpet stars and fashion bloggers. It's just a good idea to have them in a wardrobe. Luckily, wearing them doesn't mean sacrificing something. Joggers are so comfortable that you are going to wear them with pleasure.
From a training to a city
How can joggers be described? They are trousers that have ribbed ankle cuffs, which significantly expose shoes. Many designs have dropped crotch or a button-fly. Joggers are mainly manufactured from soft fabrics. In the waist, they have a waistband with a drawstring. Does it remind you something? It surely does. They are extremely similar to sweatpants. They have ribbed ankles
and provide the same comfort of wearing. However, similarities end here. Instead of using sweatpants only to running or training at the gym, they do their job also during:
a meeting with friends
shopping, a night out, going to cinema or a pub, etc.
a walk
at work (if there's no dress code)
They fit perfectly to streetwear stylings. By wearing them you can manifest ease and laid-back style. Are there any hints or things worth remembering to create a trendy and sophisticated look? Catch a few tips.
You can take the liberty to experiment
Joggers are available in many colours and various fabrics. Therefore, there are unlimited possibilities of creating stylings with them. They fit almost everything.
Plain joggers give you broad freedom of choosing other elements of an outfit. In such case, there is a decent idea – both a plain or printed T-shirt or a longlseeve. During colder days, match it with a denim or checked shirt or even a blazer. Make plain joggers a part of an outfit with a printed sweatshirt or hoodie. To get a fancy look match them with a jumper, e.g. striped one.
However, be careful if it comes to matching an outfit with patterned joggers, e.g. camo elements, patterned pockets or characteristic inserts. In this case, don't match them with other patterned clothes. Patterned bottoms look much better with a plain and smooth top.
Autumn-winter joggers
During autumn and winter season, joggers look amazing with a quilted jacket or a vest. A skillfully worn scarf can nicely influence the styling. On the other hand, a leather jacket will add to such an outfit extra style. The ones who are confident about their style can experiment and match these trousers with clothes 'reserved' for more formal stylings. It's worth to try them out with an elegant winter coat or a cardigan and a T-shirt.
Controlled laid-back
Give up on the idea of matching joggers with a high-formal suit jacket and a shirt fastened to the last button. If a suit jacket, only a blazer with a T-shirt or a longsleeve. Forget about a tie, a handkerchief and other luxurious accessories. We absolutely forbid that.
Shoes are the basic
What shoes are best? Shoes are the crucial element of a styling in which joggers play a main role. Characteristic ribbed ankles are just screaming to show off your shoes. Sneakers or slip-on plimsolls are the best complements of joggers but, to be honest, every streetwear shoe will be a great choice.
Pursuit for perfection
Before buying joggers, pay attention to legs length. Ribbed ankle cuffs don't leave the opportunity to shorten them later. They also shouldn't be too wide. Check the collection of joggers from bolf.eu. With such a broad offer you will create a trendy look without any problems.
There are at least two strong arguments to have a few pairs of jogger trousers in a wardrobe. First, they are fashionable. Joggers are the absolute hit for a few seasons and will last long. Why? The answer relates to the second reason – joggers are extremely comfortable. Try them out and you will understand.