Gentleman's umbrella – men's style in the rain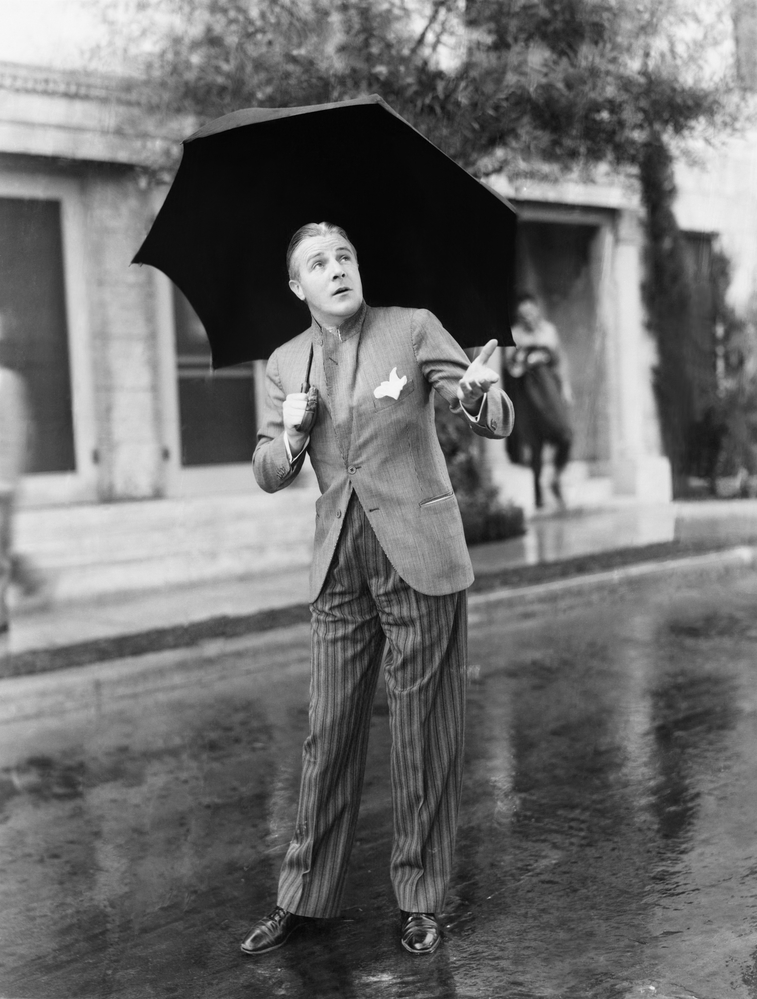 Spring comes back to life soon and it may only mean one thing - it's going to rain. But, it's not a reason to cry like a baby that you don't like to get wet. Thanks to this atmospheric phenomenon, grass turn green again and in a few weeks we may feel first warm and sunny days again. In addition, rain has got other assets and therefore, such weather also matters to the fashion world. Men can reach for their secret weapon this time...
An umbrella!
There is no reason to laugh under one's breath that the umbrella lost its popularity. By using it, you can feel like a bald king of the Middle East who travelled across his land in a chariot with a canopy thousands years ago. Or like the first emperor of China – Qin-Shi Hung. In ancient times, only the most powerful people benefited from such a form of protection against sun or rain. That's how it was invented.
Umbrella's purpose is not only to protect from rain or sun. In fashion, it can become a great accessory that emphasises the formal character of men's wear or a nonchalant element of an urban styling. It made its way through fashion canons in ancient and medieval times being a stylish detail, nothing more. Its history is not only long but interesting. In modern times, we use an umbrella as a spy device to hide weapons like e.g. a teaser! I'm not kidding! It was no James Bond story, but truth!
Statistics claim that we use the umbrella to protect against rain or sunlight only several times a year. People more often treat it as a fashionable accessory. Among trendy men, an umbrella is one of the most important elements of a gentleman's style, right next to a pocket-knife or a textile handkerchief. An elegant man in a suit and a coat, equipped with a firm umbrella doesn't use it all the time. He waits for a good moment. For example, when he walks with a beautiful woman next to him and it starts to rain – he can impress her and use his umbrella.
What to pay attention to when purchasing an umbrella?
Functionality. It's worth knowing that umbrellas are manufactured from various fabrics. Some don't protect from rain but sunlight. If you need an umbrella to avoid getting wet – place a bet on a waterproof one. Do you plan to spend spare time in Rome and want to avoid excessive sun while sitting in a cafe? Take one that protects from sunlight. There are also available multi-functional models.
Quality. The main role of an umbrella is to protect. Make sure that an umbrella has a firm handle and a solid frame and canopy.
Does it fit your style? An umbrella looks best when matched carefully to a lightweight spring jacket. While buying it, you must be sure if its colour matches the majority of your clothes and has got an appropriate shape. If you are not the English Queen, give up on the idea of taking a spherical umbrella with a transparent cloth which would be useful during watching horse racing. To get a fancy style – decide on a unique crook handle and underline your spring look by such an umbrella.