The best men's haircuts in 2016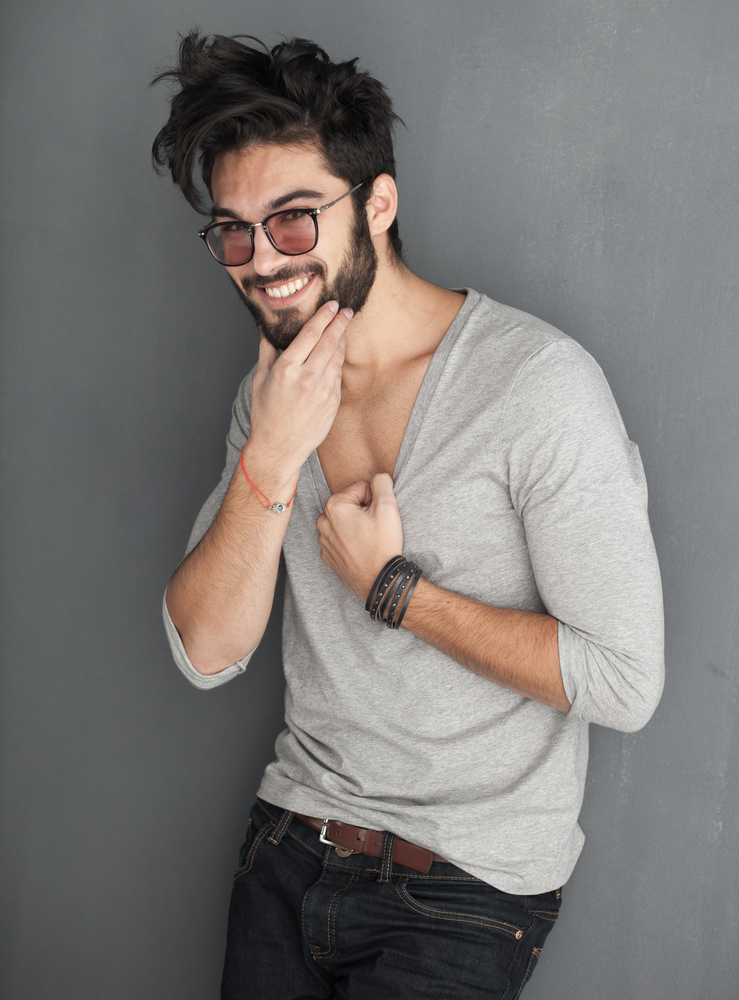 Some time ago one of the readers of this blog sent an e-mail asking about the most trendy haircuts in 2016. You name it!
This year's hair styles aren't much different than those from the previous year. Undoubtedly, the Paris Fashion Week has influenced that. A new type of a fashionable man was presented there along with some haircut propositions. Besides various sophisticated styles, this year will be mostly about the classics, or some may prefer – 'modern'.
I hope that the below propositions shall inspire you to decide on getting a particular haircut. If not, remember that there's always the soldier of fortune classic one.
'FADE'
It's classic and has been on top for a couple of seasons. Its advantage is that every man, regardless of the face shape, can look good with it.
Fade is based on cutting the hair very short on the neck and temples (1-4 mm). Here, a cowlick has no right to be. The length of the remaining hair increases towards the top of the head (2-6 cm).
Shading, then styling and customizing is up to the hair owner.
UNDERCUT
This style corresponds to the popular punk hairstyle. It doesn't matter whether you have straight, wavy or curly hair. You can easily get this haircut.
Just like in 'fade', the hair is usually short on the sides and back. At the same time, it is longer on the top. Some people wish to leave a longer back.
Tą dłuższą część można nosić w kontrolowanym nieładzie – w sposób luźny i naturalny (tutaj warto postawić na asymetryczną grzywkę). Cięcie to jest także typowe dla tzw. zaczesu. Trzeba pamiętać, że zaczes nie jest łatwy w utrzymaniu.
POMPADOUR
It sounds as pompously as it looks. However, the origins of the name comes from the mistress of the king of France – Louis XV. Her name was Madame de Pompadour and she used to wear her hair high combed-over.
It's a universal hair style. It's another one, which has shorter sides and back and a longer top. What's different about it? It's the hair volume. Strong hair is additionally lifted up by a special trim (the shorter hair lifts up the longer). The conclusion is that it's not a hair style for everybody. It's most suitable for men with fuzzy hair. The hair can be combed up or sideways. You can also decide on exposing a visible parting.
What to do in case you had a problem with naming it? Simply speaking – it's the style a'la Elvis Presley. It's been one of the most popular men's haircuts since the 1950s. Extremely sexy but you need to care about it.
MAN BUN
It's been one of the hottest trends since last year. The hair style with a bun has made its way with a blast into the men's fashion world. It's quite original, but not for everyone. In order to get such a haircut, you would have to grow hair for a long time and care about it. Obviously, you can get the look more easily, just read this article. However, I wouldn't recommend it.
Pay attention not to confuse a top knot (with sharply shaved sides and back) with a man bun.
This bun is dedicated only to people with long hair who have the skill to tie up something quickly on their heads.
MODERN SIDE PART / CLASSIC PARTING
Classic men's hair style with a parting. Here univesalism applies. Every man, regardless of the age, will feel good with it.
The hair can be long or short. You can comb it twofold. Sideways – at work, backwards – at the party.
Such style is dedicated to men who appreciate a professional and elegant look.
FEADHERED
It's a nonchalant hair style. Perfect for the fans of middle-length hair styles. It's for men of different age, who aren't afraid of experimenting.
If you don't have a motorcycle, well… this is the alternative way to get 'wind in your hair'!
What's typical for this hair style? It's the characteristic layer cut. It's good for men with straight and wavy hair. You can cut the tips on various ways.
The unquestionable advantage is that you can look differently every day.