What is fashion colour blocking?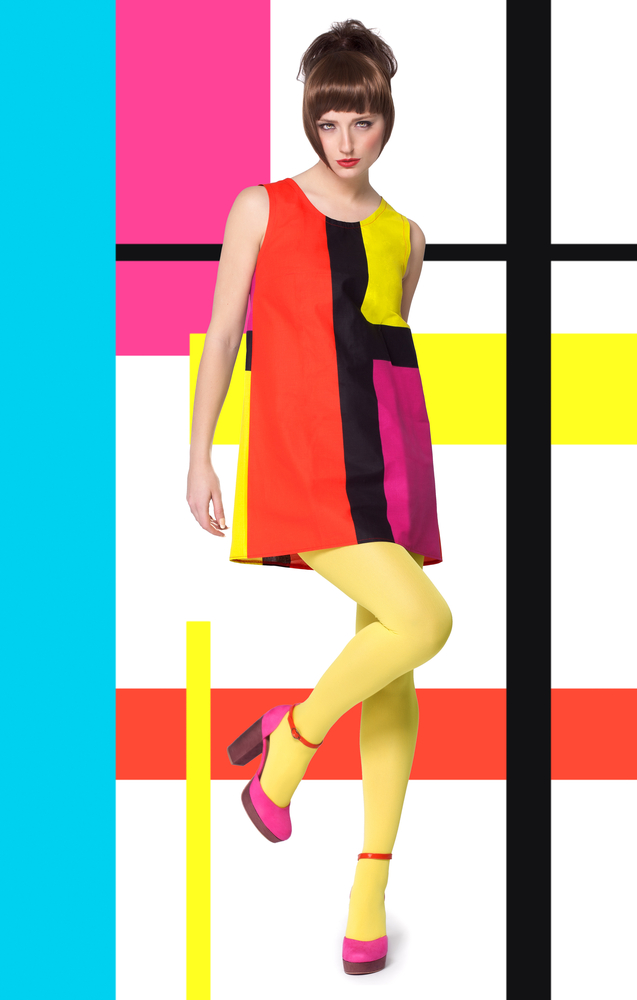 Supposedly, there's no one who wouldn't come across the 'Composition of Reds Blue and Yellow', which was painted by an geometric abstractionist Dutch painter Piet Mondrian in 1930. What's interesting is that it has hugely influenced the history of fashion!
This work of art was the inspiration of Yves Saint Laurent himself who designed the legendary denim Mondrian dress in 1965, which is associated with the swingers of the 1960s.
Thanks to the fact that Laurent got to know the work of Mondrian, the method of designing with the use of the ruler changed. First, the designers started paying attention to colours, which composition gives a certain outfit 'movement' and character. Teasing? Maybe, but this is the source of the colour blocking trend.
What is colour blocking about?
Fashion takes a lot from the things surrounding it, including art. However, colour blocking isn't an exclusive element of fashion. Geometry! Try to imagine an aircraft runway or painted parking slots in white lines, or sometimes yellow, blue… depending on the country. It's nothing less than colour blocking!
In fashion, this term means the way of wearing colours. Using them. Sometimes there are only two from the palette, other time – more. They appear in light or more intensive shades. When you have a fine colour composition, then it's easy to create a simple, yet elegant look. Besides geometric prints, there're no additional prints or patterns because they would disturb the outfit's composition. The levels of colours have to be large, the textures simple, the colours expressive.
How to choose colours?
An easy way to do so, is to use a colour wheel – a graphic overview. The brands selling wall paint use it to present the available colour palette. 😉
The weird thing is that in colour blocking, the best matching colours are the complementary ones from the opposite sides of the wheel! To obtain the wow effect without making a fashion faux pas, it's good to set your favourite or a trendy colour with a contrasting one. It's a proposition for people who want to look expressively.
If you prefer more balanced outfits, you can use the shades from the palette colour that are next to each other. For example, yellow, green and blue correspond naturally. However, you can feel free to experiment and complement them with neutral colours.
Geometric abstraction has an incredible fashion potential. It not only highlights the styling but also creates an illusion. Due to proper colour blocking, it's easy to bring out the best features of the silhouette or to hide imperfections. Smuggling the rules of colour blocking into stylings is a trick of fashionistas who know fashion intricacies. It will make your outfit classy and eye-catching!