9 things making you look like a rock star!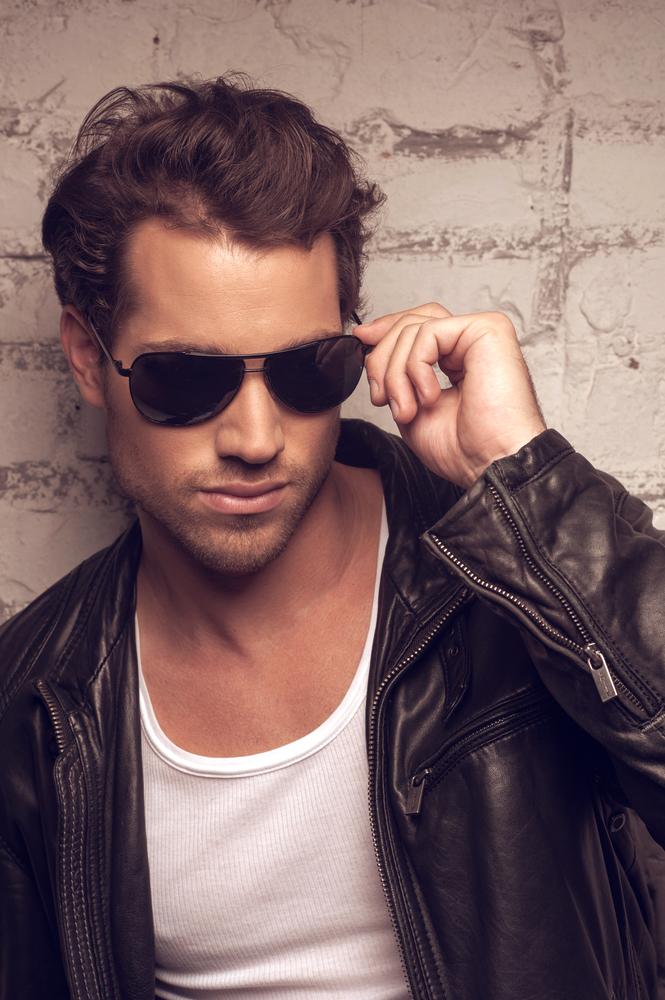 Rock is not only a music genre! It's also a lifestyle and expressive universal style. It's seemingly sloppy, but in fact it's all about consequence. It's for a rebellious type of men!
Rock style is one of the most lingering global trends and probably it would never go out of fashion. It's still a rival of the casual style where colourful chinos rule, as well as ironed shirts, blazers and elegant jumpers for nice boys.
There's no place for daydreaming. Somebody who fears his own shadow or cares about the perfect look will never look like a rock star. You've got to have some protest in you, show it and express your personality. The decisions made by people who identify themselves with the anti-system and rocker style are uncompromising and solid!
9 things making you look like a rock star!
1. Jeans
A pair of jeans is the basic element of the rock&roll image! The best are blue, black and the worn-out ones. However, if you don't have such a pair, don't worry. The huge offer of Bolf.eu online shop guarantees that you will find the perfect pair for yourself!
The most important issue regarding jeans is the fact that they have to be well-fitted and they should underline the bottom in a sexy way! Wear a model that you feel comfortable and look perfect in. Having problems with choosing the right pair? Go to -> Jeans without secrets. Find your design! The legendary cut – slim doesn't have a monopoly. Obviously, jeans should have signs of wearing to show that they have history. On the other hand, you can easily find a shortcut by buying a brand new pair with stonewashing, cuts or patches.
2. T-shirt
You have chosen the bottom. Now it's time for the top. A classic T-shirt is the best option for rock style. A black, white or even a red one. If you're a fan of some particular band or if you want to tell the world a pearl of wisdom, such as 'F*** You!' – pick a printed T-shirt.
3. Flannel shirt
Complete your styling with outerwear. Throw a grunge flannel shirt on top. It's a symbol of rock&roll. If it gets hot or if you want to look nonchalant, you can always tie it on the waist.
4. Vest
A denim, leather or cotton one. A unique vest can be made from almost everything. Even from a sweatshirt. Just cut the sleeves off to give the outfit a Hard Rock Cafe character.
5. Jacket
The denim jacket comes back with an exclamation point. In a rockman's wardrobe, there should be also a leather jacket – the classic biker jacket or a super trendy black or khaki bomber jacket. You can enhance every model with flamboyant decorations or pins.
6. Shoes
Combat boots, leather ankle boots or plimsolls? The choice is up to you.
7. Sunglasses
A true accessory for a man feeling the #rockstar! Vibe – sunglasses. Place a bet on classic and universal Aviators, which according to Cosmopolitan readers, besides a basic T-shirt, the above mentioned flannel shirt and a black leather jacket, make a man more sexy! Simple? Indeed! Millions of people can't be wrong.
8. Cap
Something to put on the head! Although a cap is not an obligatory element of the rock outfit, it may be a fine finish of the styling. It's worth to have a couple of grunge models in your wardrobe.
9. Jewellery
If it comes to jewellery, you should try out leather elements, straps, wide bracelets or studded accessories. Among other accessories, there are sew-on badges, pins or bandannas which can be tied up on the wrist.
Being a rebel, youth and music! The contrast of perfection for men. Are you in or out?