5 ways how to wear a women's checked shirt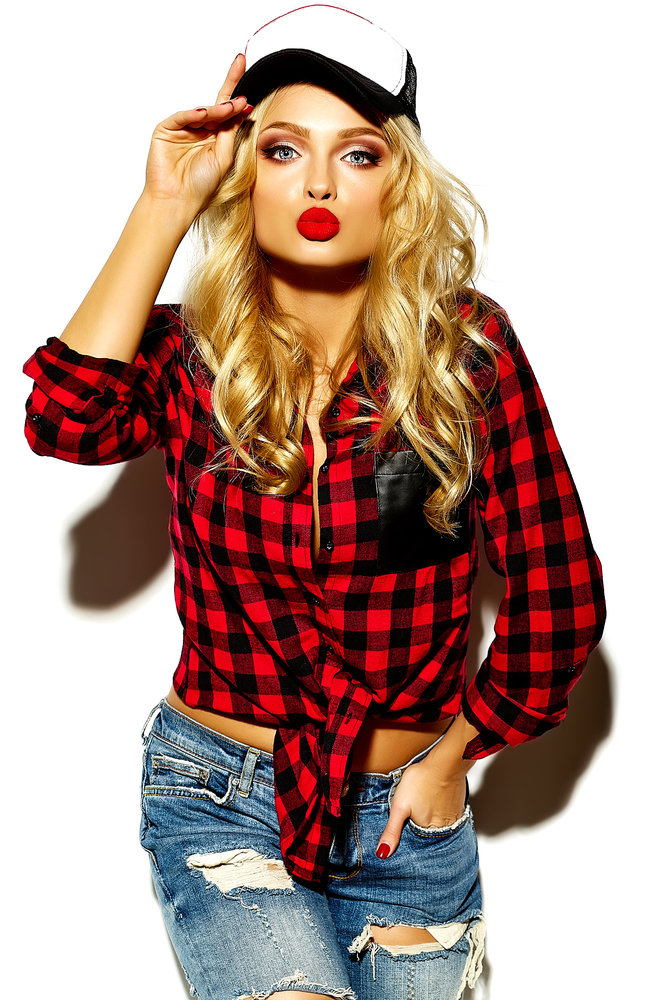 Choć jej historia rozpoczęła się pośród klasy robotniczej XVII-wiecznej Walii, to współcześnie jest popularna zarówno wśród modowych rebeliantek uwielbiających streetwear, jak i na wybiegach, prezentowana w otoczeniu wieczorowych kreacji.
Once again it's one of the hottest trends of the season! No wonder – it is a timeless cut. Flannel checked shirt!
It never runs out of fashion and despite the fact that you can wear it all year long, autumn and winter are the time when you like to put it on the most. Cosy, universal, affordable – these are only some of the advantages. It is associated first of all – with comfort, don't forget that you can wear it on many ways but don't overdo with accessories. A checked shirt works well in a set with trousers, shorts or a skirt. It's suitable for many occasions – even those a bit more official.
5 ways for wearing a checked shirt!
1. Classic and elegant
It can be partly unbuttoned, tucked into a black pencil skirt or trousers, or untucked. In such a way with the last button fastened, you can make your image look full of dignity and chic. On the contrary, if you want to look elegant, choose stilettos and a casual blazer.
Try out a cotton checked shirt in an evening edition – emphasise your sex appeal and complete the styling with a short flared skater glam-skirt or a leather skirt – narrow or wider at the bottom.
2. Rock&roll style
Popular combination of baggy jeans and a leather jacket is always on top. But even with jeans, a shirt in a tiny or large check can be worn differently, not only when you are the girlfriend of a rock star. On colder days, wrap your neck up with a knitwear scarf, put on a streetwear cap and add a large handbag. You can also complete the styling with a furry vest and get a mind-blowing outcome.
3. Tied up
Checked shirts are suitable for extraordinary stylings. You can tie it up, tangle, etc. A waist-tie in a pin-up girl theme underlines the silhouette and reveals the sex appeal. This idea looks great with high-waist trousers. On the other hand, a waist-tied shirt surely boosts up a casual styling and gives a grunge vibe.
4. Top or under
Checked shirts are characterized by the fact that they can be worn on hundreds of ways and can be matched with various parts of clothes, e.g. with jumpers. If we put it on under a jumper, it will look nice both with a plain V-neck and prominent cuffs and collar, as well as with a regular cardigan or an oversized one. A checked flannel shirt works well also under different outerwear. Match it with the mentioned furry vest, with a quilted one or set it with a leather jacket.
5. Oversized
Try out a model that is at least one size larger than the one you wear. Put it on casually on a T-shirt or a top with narrow shoulder straps or a crop top, which can easily replace a sweatshirt or a jumper. If you still feel that you want to look more stylish, go for rolling up the sleeves. Feel free to use such a casual styling, for example during a meeting with friends.
Despite wearing a classic checked shirt on one of the above ways, it's worth to plump for this autumn's hit – longline shirts reaching even the half-thigh… well, it can be mistaken for a dress or a tunic. Match it up with leggings or jeans. Above all, a checked shirt is a universal element of clothing. Every fashionista gets used to it very quickly. Get one for yourself!