10 things you have to bring to a gym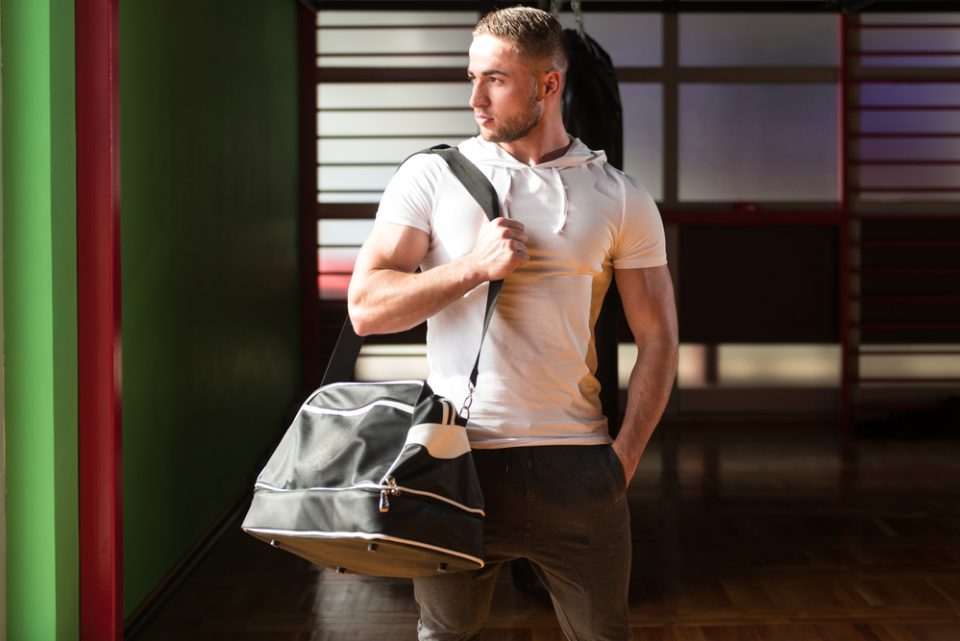 You can bring whatever you like, but if your goal is to train and be fit – you should equip your bag with the basic items of a fitness club member.
You go to a gym to work out, not to show off. Although visual effects are the ultimate aim, you can of course invest in clothes or gadgets and there's nothing wrong in it, but for hard work you only need a couple of basic accessories. In this case, put practicality over fashion.
1. Sport bag
Get yourself a sport bag. If you like, you can take a backpack or whatever you can pack your stuff into. Nonetheless, a sport bag with compartments for shoes, clothes, personal things and healthy snacks (apples, bananas, protein bars) will be far more functional. If your bag doesn't have compartments, take some plastic bags. Otherwise, different smells like a damp towel or sweaty clothes will mix inside, but it's not the worst thing that may happen – an open shower gel or shampoo can really mess your things up.
2. Outerwear
You don't have to dress up in theremoactive clothes for the gym because it's designed for mountain climbers. A classic hoodie will do the trick. A fleece or cotton sweatshirt provides thermal comfort and a proper look. It's always fashionable, just like a tracksuit.
3. Sport outfit
It's supposed to be comfortable and not to limit movement. You can invest in technologically advanced clothes, but hold on until you are sure that this type of avtivity will be long-term for you. The immortal multifunctional T-shirt and classic sweat shorts or sweatpants are suitable and won't be troublesome in any exercise. Except of headstand… obviously. In winter, it's worth to put on a longsleeve to warm-up better.
4. Comfort accessories
If your hair is longer than average or if you have an eye-skimming fringe, put the men's hairstyle textbook away for a while and put a headband on. It keeps your hair up and absorbs sweat. When you do bench press exercises, don't forget about the gloves – their anti-slip features will protect you from getting hand calluses.
5. Socks
A sophisticated proposition may be socks made from merino wool. They are soft and chilling. Moreover, they absorb moisture, limit the smell and protect from abrasions.
6. Trainers
Pack a pair with a flat outsole, good cushioning and stability.
7. Gadgets
Gadgets aren't the most important element but we can't pretend that a workout without music is pleasurable. It's certainly a big motivator, e.g. on a treadmill. That's why it's worth to get yourself high-quality heaphones – it doesn't matter if you want to motivate yourself or to 'turn yourself off' for privacy. If you're a tech-geek, you can take a FitBit (pulse o meter) with you to a workout. It controls your pulse and counts the calories that you're burning. If you want to bring your mobile phone with you, you will need an armpocket.
8. Towel and shower slides
A small towel will be practical at the gym to wipe the equipment off or to preserve the bench from moisture. With a big towel and slides hit the showers.
9. Toiletries
It's crucial when after the workout you don't go home but go to work or a meeting. You have to be prepared depending on the situation. Think about packing a deodorant, cologne, shower gel and shampoo (preferably 2in1) and a moisturizing cream.
10. Water
Hydrating during a workout is essential. Always bring a bottle of mineral water or a sports drink with you.