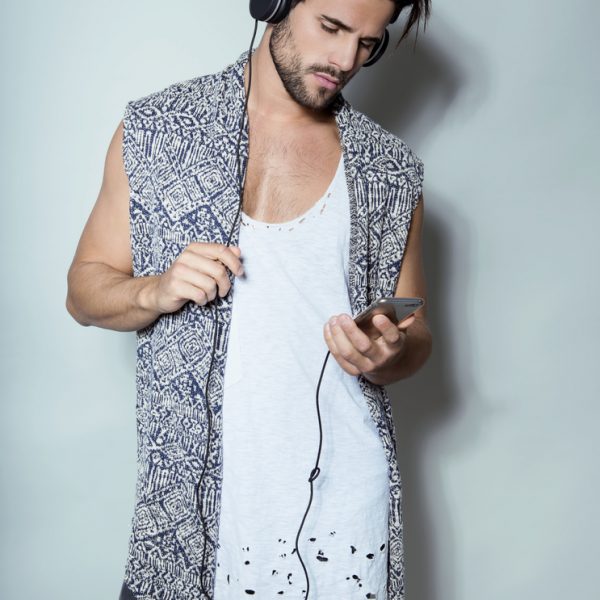 Tank top – one of the most controversial item of a men's wardrobe!
Some people still associate it with sportswear, underwear and a sloppy look. Nowadays, a men's vest is a part of a garment that you can freely wear in various situations. E.g. in places where it's very warm and people feel the summer vibe. In the middle of summer, in seaside resorts, during spring in a city or evening night outs with friends.
A men's tank top is a breathable sleeveless piece of clothing that helps you survive during the hottest days of the year. Especially streetwear fans appreciat it. It looks really good if worn in a fancy way.
Three ways to wear a tank top!
Men's tank top is an integral part of a summer outfit. The temperature of 30°C is no longer a time for multi-layered and complicated stylings. It's the right moment to place a bet on basics. Of course, it doesn't mean that you should give up on your fancy look. Choose a men's hooded tank top or a printed one. Regardless if they are subtle or expressive – they guarantee the edgy look! The most fashionable patterns this season are military and marine prints (e.g. classic horizontal stripes). Such tank tops fit to all denim and cotton shorts in vivid colours. Complement the whole styling with plimsolls or slip-ons.
Don't avoid their original purpose. Legendary tank tops undoubtedly fit to all classic and sporty stylings with trainers. Both during spring, when you match with sweatpants and a hoodie, or a tracksuit and during summer, fitted to shorts.
Tank tops can be used not only within easy-going and sporty style but also among casual ones. The only condition is that you're confident enough about your fashion choices and have the ability to mix styles and clothes that correspond to each other. Use a plain men's tank top with a vest or a sleeveless cardigan. It fits amazingly to a contrasting blazer, jeans or chino trousers, a handkerchief and suede shoes. All of these matched together can create a striking look!