CASUAL STRIKE! ALTERNATIVE WAYS TO WEAR A JUMPER!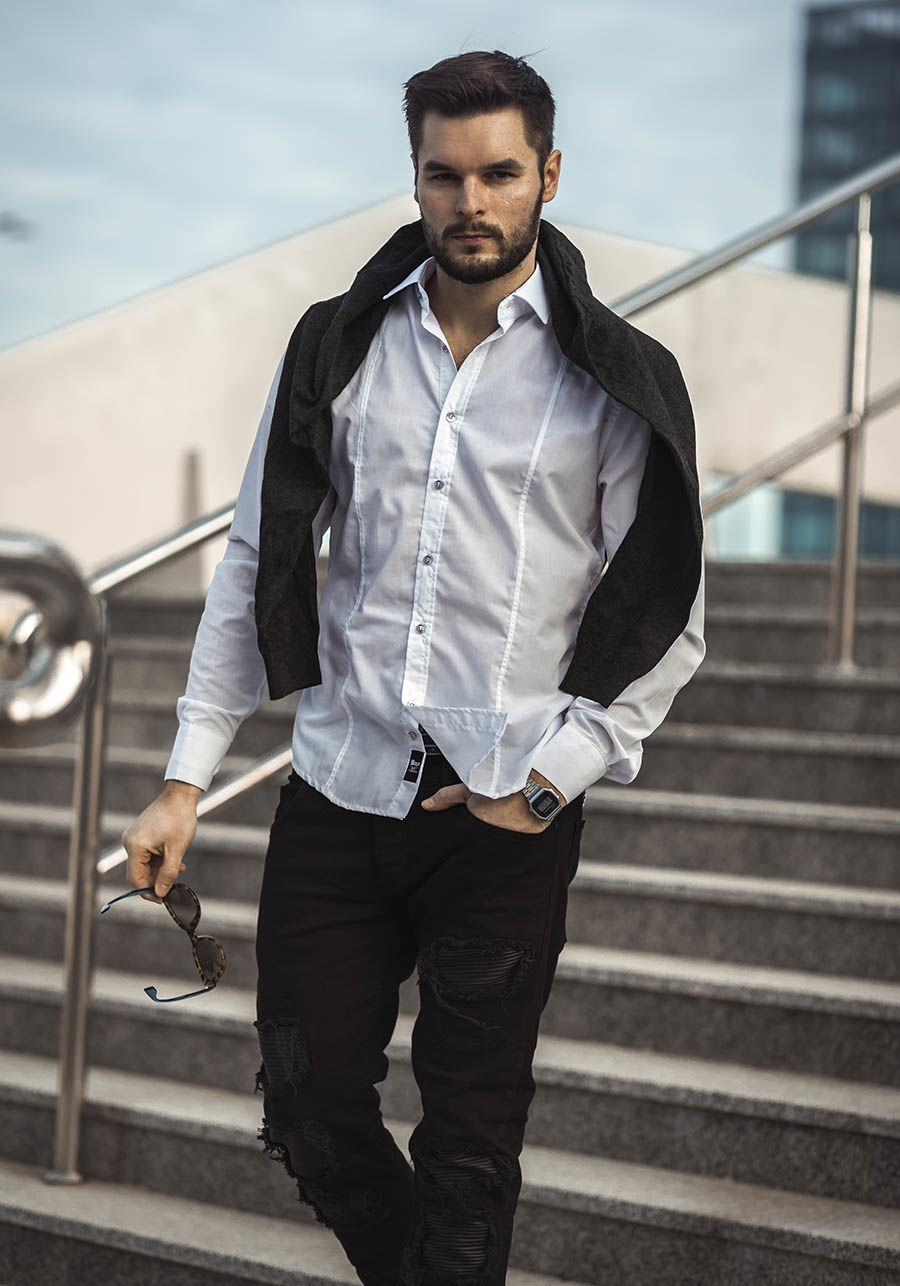 It's a well-known fact, summer is the best time of the year, but also the most problematic if it comes to fashion. It's surprising, isn't it? What's the problem to get a pair of shorts and a fancy T-shirt?
In the theory, there's nothing easier. However, a challenge starts when you have to dress up in a particular style. It's more demanding to create a formal style that would be more appropriate than the one that fits to a morning walk to the grocery store at the sea resort. Don't forget about moody weather. We don't live in a subtropical climate in Florida, where there's no cold and a jumper is totally useless in summer 😉
A jumper may be really useful! When you go to a party outside, spend a weekend outside the town or meet with friends. Evenings can be chilly, rainy or mosquitos could be a pain in the neck. In such a situation, the winners are the guys who have a light and warm stylish V-neck jumper.
Such a perfect men's jumper for summer isn't only chic and versatile but it provides you with the opportunity to create a combo styling! How is that possible? It may be used not only as outerwear for clumsy weather but also as an interesting item that finishes off the summer look!
Alternative ways to wear a jumper in summer!
First. The easiest and the most obvious way – just wearing it! For example, when it isn't as hot outside as on a tropical island. In such a situation, a V-neck jumper in toned or summer, energetic colours can be matched both to chino trousers or jeans and shorts. You can wear it with a T-shirt or on a bare torso.
Tied at the waist. The model that fits to casual trousers, plain T-shirts, longsleeves or even tank tops. Such a styling tells other people that you're a positive person who wants to have fun. Even though you're a hot guy – a jumper will be useful later on.
In the elite American preppy style that is a jumper on the back with slightly tied up sleeves in the front. This look is all about sports elegance that fits perfectly to summer. It additionally expresses a man who knows his style. Colours? The best choice are pastel ones.
As above but with loose, not tied sleeves.
Hipster-like, for a man who isn't afraid of experimenting with fashion. A jumper tied diagonally – the one side on the shoulder and the other on the armpit. Something like a postman who wears his shoulder bag on the shoulders.