3 ideas for beige shorts!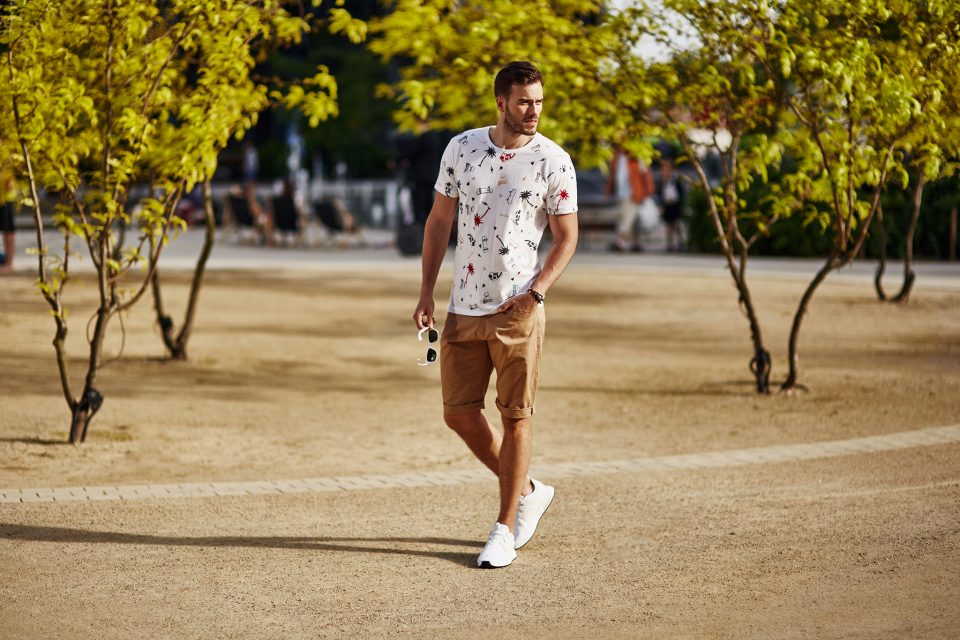 Summer wardrobe is not about the quantity, but quality!
One shelf in the closet is enough to store typical summer outfits. T-shirts, sports and casual shorts, 2 pairs of trousers, a shirt and a classic jacket, e.g. a bomber one. Of course, you shouldn't forget about sweatshirts and hoodies. These few items are enough to look good in summer. Additionally, such limited number of clothes, which are versatile and light, allow you to pack easily and travel across Europe anytime.
One of the most classic men's piece of clothing for summer are shorts. It's worth to place a bet on a classic pair and have at least one in toned, earthy colours. Today, we focus on the most universal models that begin this trend! Beige shorts never go out of fashion and can be a part of many stylings!
3 ideas for beige shorts!
1. See the main picture and find out that beige shorts look amazing within the streetwear style. It's enough to match them with a printed or plain T-shirt or a tank top to fit to the urban jungle. If you want to boost your look up, don't forget about the accessories! Fancy sunglasses or a cap will be the best choice.
2. The second outfit with beige shorts are much about casual style! It's a good idea to wear them for a meeting at the cafe while enjoying your espresso. They can also be freely worn in the evening with friends at the pub. Beige shorts look interesting both with a casual shirt and a plain T-shirt. Of course, creating a look with a sports blazer in a summer energetic colour is also an interesting idea.
3. Cotton shorts also deserve to be treated uniquely and matched minimalistic with a sweatshirt or longsleeve. Such a look guarantees you amazing comfort! Especially, when you're at the airport, having lunch in the city and you don't want to wear a blazer but you need long sleeves!