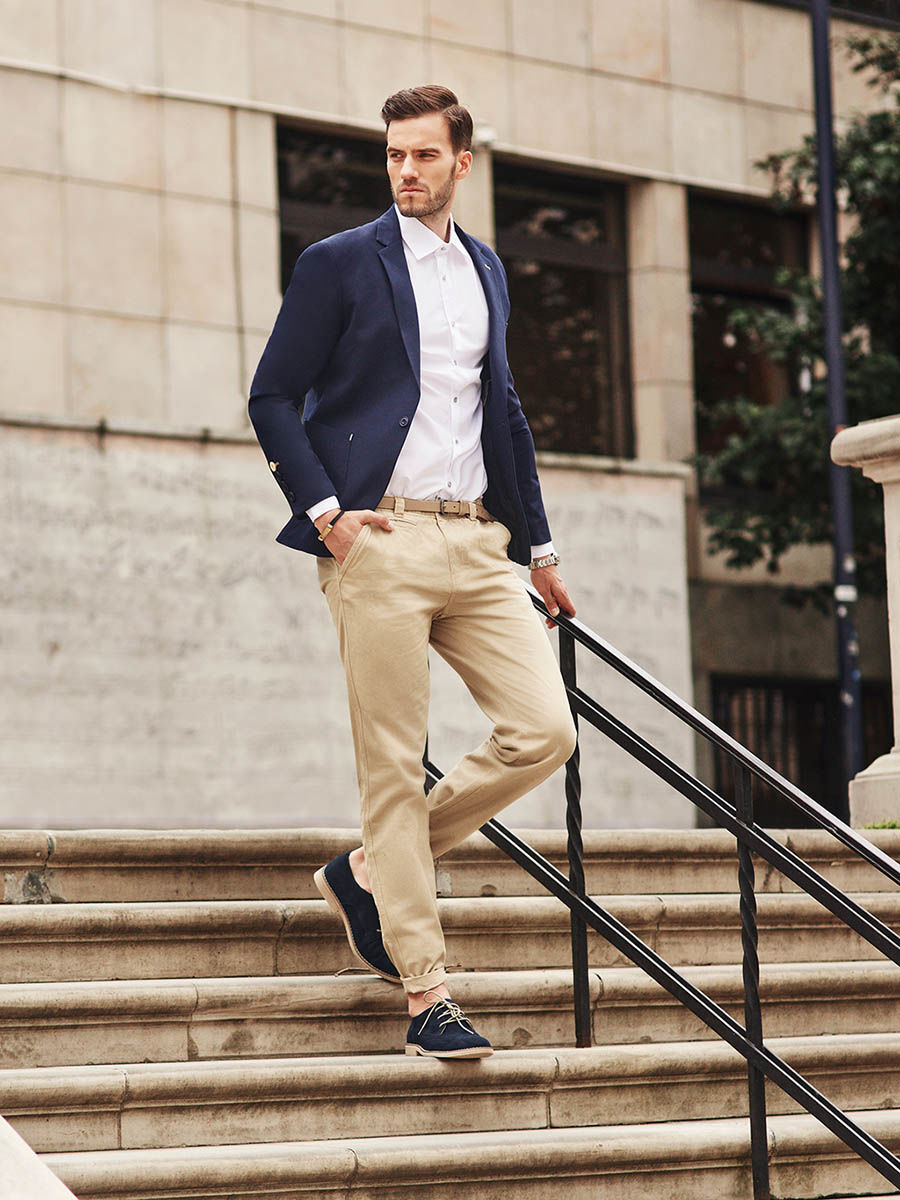 Style is something that in the easiest way to express personality and a stylish man has no problem with that.
Every man has in his closet clothes that are absolute essentials of his unique style and he can wear them variously within many stylings. Today, we're talking about the undisputed classic of men's fashion – a navy blue suit jacket!
A navy blue suit jacket!
Above all, it's a versatile and timeless choice. Therefore, it's a perfect match-up of almost every classic men's stylings. You can freely match it with a white shirt and well-fitted trousers. You can obtain an elegant, yet trendy look with the use of chino trousers in khaki, beige, grey or blue. It's great for a work and a business meeting and if you get a tie – you'll look really classy.
A navy blue jacket can be used in more casual and chilled stylings. Just try to match it with… jeans. However, remember that they should be a slim-fit cut without any extra features like inserts, logos or stone-washing. The most appropriate designs are classic dark navy blue jeans that fit best to a white or navy V-neck T-shirt or a black polo shirt.
If you want to create an urban look, match it with contrasting clothing. For example, get an astonishing look by matching it with red chino trousers, rolling their legs up and complementing it with summer footwear. If you want to learn more about pin roll – read this article – 'Pin roll – a styling with bare ankles. A hit or a flop?'.
I think we proved that a navy suit jacket is a really a timeless piece of clothing. Its versatility in fashion is determined by numerous possibilities of use. The elegant and casual stylings are only the peak of the iceberg. It works also within streetwear fashion! For example, with black and white joggers, a printed tank top and sneakers.
It also may surprise when matched more uniquely. Try to team it up with a jumper or a turtleneck – it's a reliable look for both autumn and chilly summer days. On the other hand, you can get a grey plain sweatshirt and plimsolls and match it with a suit jacket. Why not create such a big city look?
See more inspirations with a navy suit jacket from bolf.eu below.

source: bolf.eu

bolf.eu