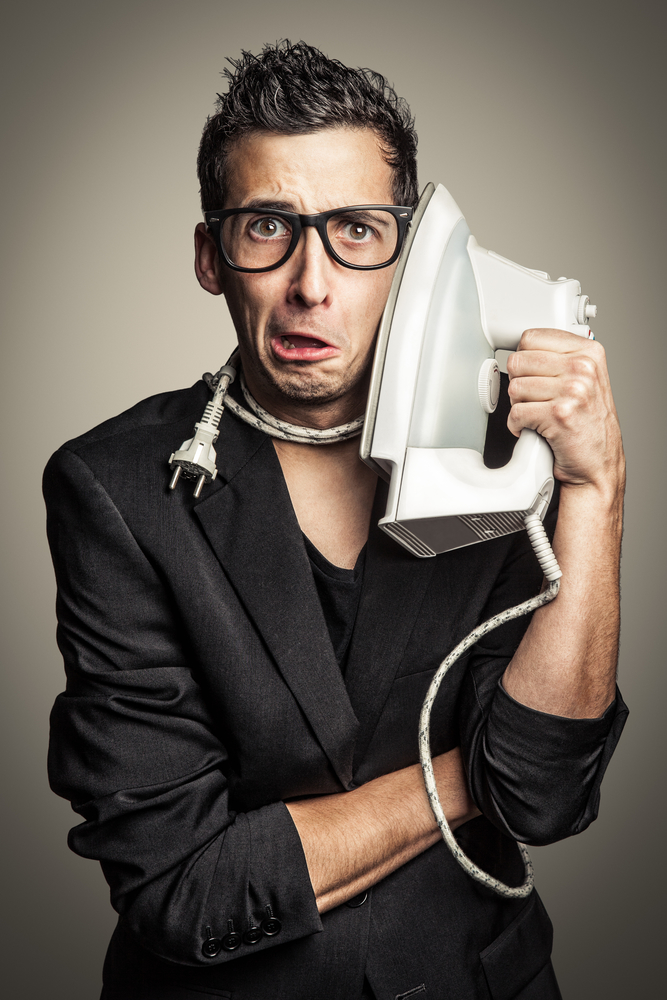 Today, there is time for an important post. When there's no woman at home and the mother is far, far away – ironing becomes your headache. But, be careful and don't take it literally. It's better not to put it near your head – rather to a certain board...
But, first things first. Before you start – prepare everything you will need.
Shirts are easier to iron when they are moist – so get a spray with water. Another handy thing is an iron (preferably a steam one) and previously mentioned – an ironing board. However, it can be easily replaced if you don't have one. It's enough to put a towel on a table and Mr Perfect Man's spot is ready!
How to iron a man's shirt?
A shirt should be ironed while it is still slightly moist after washing. If not, moisturise it with a spray, fold and wait a few minutes until it gets evenly wet.
Check the shirt's label to figure out at what temperature it can be ironed. Next, adjust the thermostat of an iron for the appropriate temperature.
Before ironing, make sure that all buttons are undone.
Start ironing from the collar's points. Begin from the inside and then repeat it with the second side. If you iron a dark shirt, iron it with the use of a piece of cloth – it won't gloss later on.
Cuffs' time. Similar to the collar – they should be ironed from the both sides. In this place, a shirt contains more than one layer and thus it's necessary. Firstly, iron it from the inside (!) and then the outside. Don't get confused with the order, otherwise, creases may occur.
Top – back! Firstly, iron the neck and then the arms. If you have an ironing board, pull the arms into the narrower side. It definitely helps you to do the job. Moreover, it allows you to get shoulders and the collar ironed easier. Keep the iron from the edge to the centre.
Sleeves. Spread them along the seam. Iron the first half from the centre to the edge. Remember to iron both sides. The remaining part requires ironing the crease. Creases are already out-fashioned.
Shirt's back. Pull it on the ironing board (bottom part towards the wider part). Iron it from top to bottom.
Shirt's front. Put the half of the shirt on an ironing board – buttons to the outside. Iron it carefully, keeping in mind spaces between the buttons. Do the same with the other side.
At the end, iron the collar one more time.
Would you agree that ironing a shirt isn't so difficult?