Claret leather jacket – shine with rebellious style!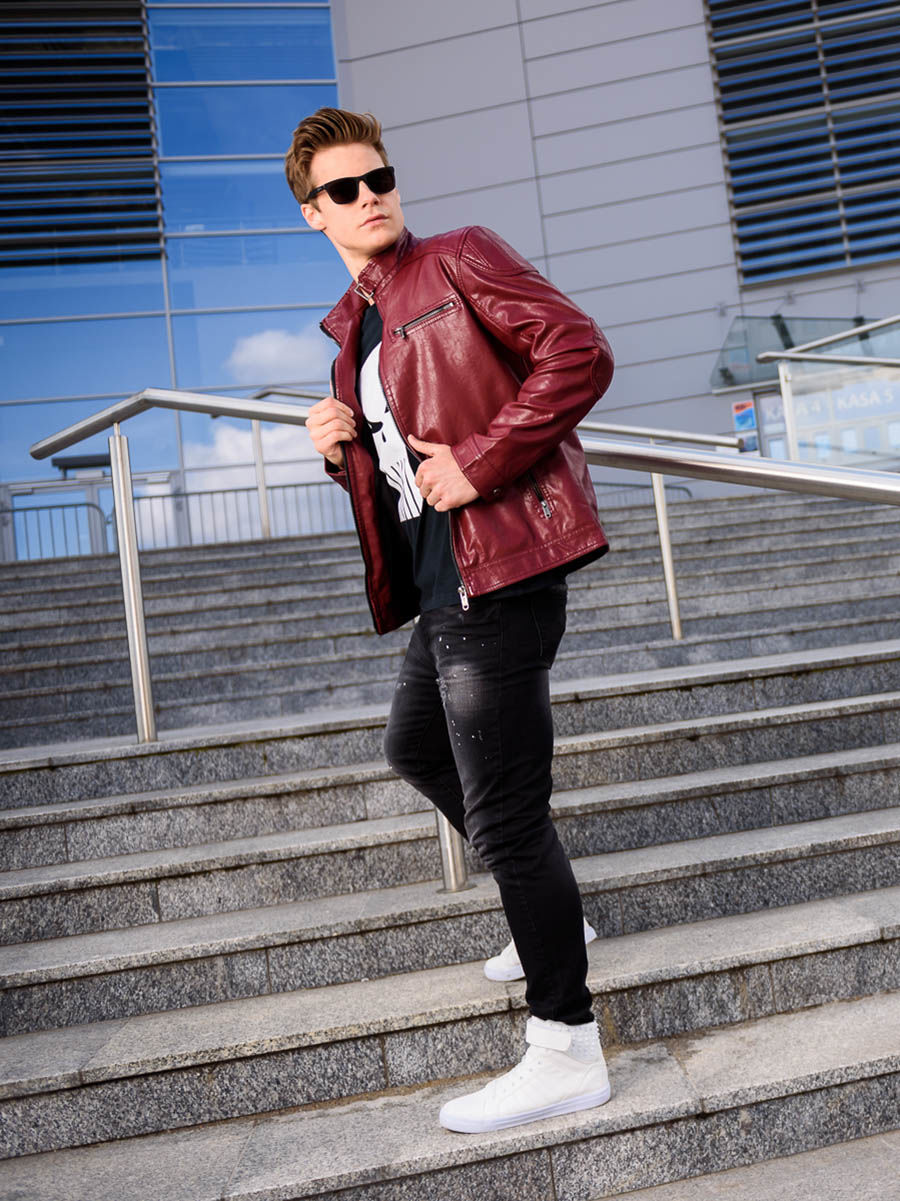 No man can miss such an iconic piece of clothing like a leather jacket.
It's no surprise that leather jackets are the absolute must-have in the fashion world! We have grown accustomed to classic designs like black biker jackets, well-fitted designs and bomber jackets. The classic black leather jacket is always a perfect choice that fits to trends! If you want to stand out from the crowd, it's worthwhile to place a bet on more fancy and unique cuts – especially in spring! It's a great alternative for men who like to emphasise their look and a rebellious nature.
It's a well-known fact that some leather jackets adapt to individual preferences, body type, style or even facial features. Interestingly, if you want to bring freshness to your look and a new leather element, you don't need to choose a model that doesn't fit you! If you know that you feel best in a racer cafe jacket – get exactly such a model! The most important is your mood and you'll always look best in clothes that you like. In addition, you feel confident. Another nice idea is to try less characteristic but more expressive colour. That's why you should try a leather jacket in claret!
Men's claret leather jacket. How to introduce it to a styling?
A claret biker jacket looks great matched with skinny jeans, a V-neck T-shirt with an expressive detail (e.g. with a skull print) or a plain shirt. The whole styling may be complemented by plimsolls or sneakers.
A leather jacket with a stand-up collar and with a regular cut is a perfect choice for a casual look. It fits amazingly teamed up with chino trousers or jeans and a plain jumper or a fashionable shirt.
A legendary bomber jacket or a baseball jacket in claret colour is a decent proposition for streetwear style! For men who aren't afraid to experiment with their look. Such a jacket fits not only to slim-fit jeans but also to joggers and baggy trousers.