A MESSENGER BAG! HOW TO WEAR IT?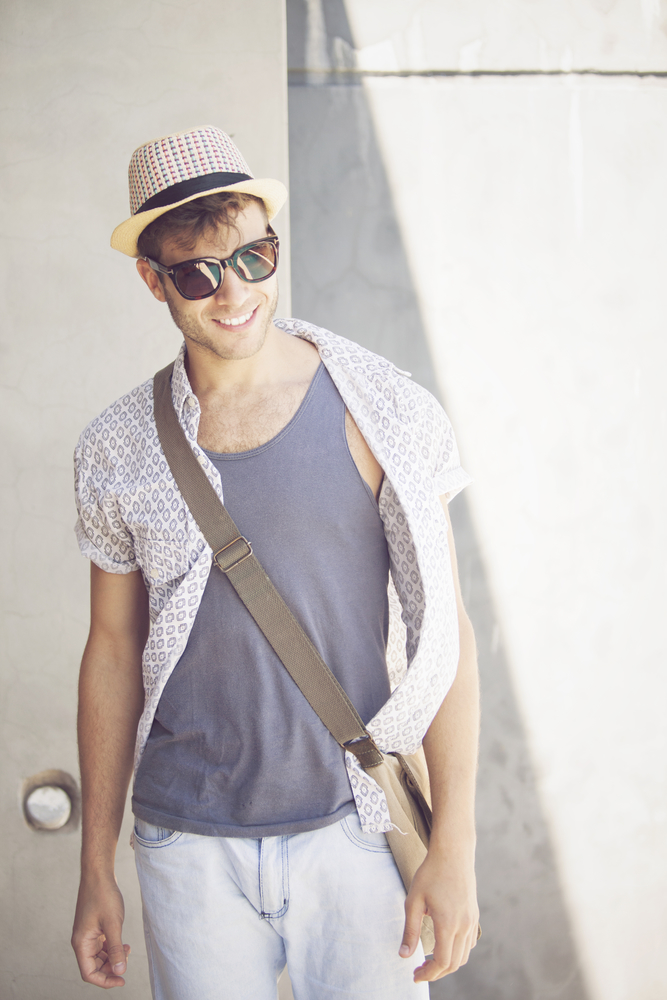 A man with a bag. Does it sound strange for you? Unnecessarily! Don't look at it by the means of Teletubbies stereotypes. Actually, men have worn bags for ages and the attitude of society towards this trend has also evolved significantly!
Nowadays a messenger bag on a men's shoulder shouldn't surprise at all. Cambridge, satchel or messenger bags matched with a casual styling look just amazing. Moreover, bags have been used for centuries, e.g. the Renaissance men had a bag tied to a belt to keep money and spices. Larger briefcases became a sensation during the industrial revolution, while shoulder bags were the basic accessory of soldiers during WWI and WWII.
The first famous man with a bag was Indiana Jones. However, it was a popular series 'Friends' which changed its perception within the society. People started to get used to bags, but one of the characters claimed that the world wasn't ready yet for a man wearing a bag 😉 Later on, it was 'Hangover' and Alan who wore his messenger bag proudly. Anyway, bags made their way through pop culture and are its important part!
It's definitely good news! You have to wear somewhere all your stuff and it's better to keep it in a bag than carry it in pockets. Trousers with pockets filled with wallets, phones and keys don't only use up faster but also deprive men of comfort and perfect look. Let's be honest – it also looks awful. Well, Alan also didn't created an amazing look, but bags can be a really nice accessory and a part of a handsome look.
Depending on the man's style, there're lots of various men's bags to be used. From a messenger bag, through satchel, Cambridge to a briefcase.
A men's shoulder bag! How to wear it?
A messenger bag doesn't fit only casual. It's also a good choice within sports elegance. Want to match a suit jacket with a bag? Don't do that! In such case other models are better, for example, a handbag'. A messenger bag is rather lightweight, versatile and comfy, therefore it's the best choice for streetwear stylings.
It's relatively small and that's why it looks best as an accessory of men who have a balanced and classic body. Big guys can also wear such bags but they need to be large, if not they should place a bet on another model. Men's backpacks and Cambridge bags will be the perfect choice.
The shoulder bag is an 'after hours' model. The leather one looks great matched with jeans (slim fit or shorts) and plain T-shirt or a casual denim/flannel shirt.